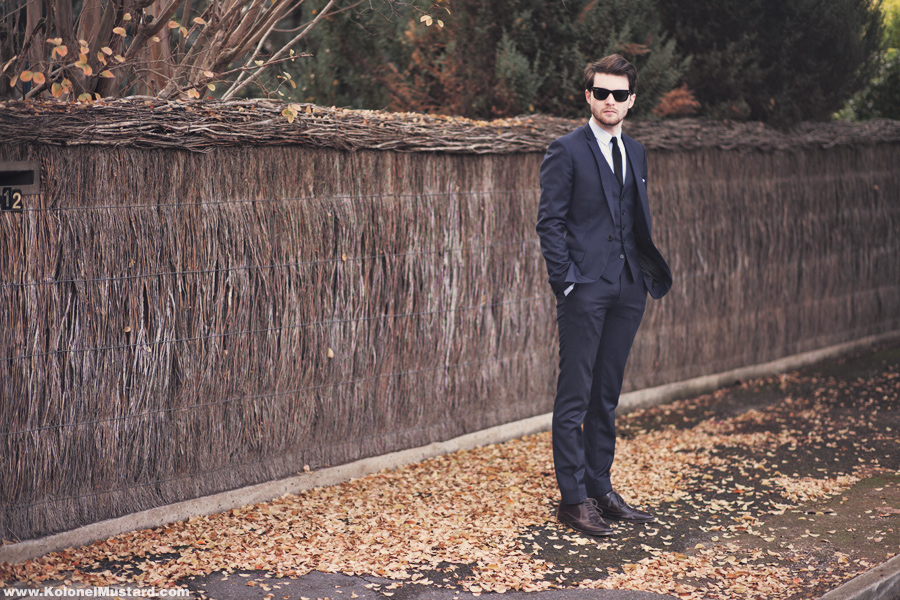 Standing in the leaves in a suit…
I went to a wedding a few weeks ago (no I wasn't getting married) and having never been to a wedding since I was about…5 years old. SO! I am sitting there really trying to think to myself about what would be appropriate to wear. Most gentlemen wear a standard grey suit etc. with some colour…but I wasn't really in the mood for breaking out my grey 3 piece.
So I opted to wear my blue 3 piece suit. (which is way more of a lovely royal blue than these photos show….I should add) Weddings are one of the last places a man SHOULD dress his absolute best (funerals are the other) it is ultimately to show his respect for the wedding couple….now…I could go on for ever about this…but I wont….You don't have to look like a Hollywood star….but at least put in some effort
The wedding was a lovely affair…it was so wonderful to see my good friend Joshua finally getting hitched to the love of his life Jennifer
so my congratulations go out to them!
Here I wore a navy 3 piece suit by Jack London, blue oxford shirt by Jack London, black tie which I found in an op-shop, brown wingcaps by Asos.com